Tailpro has developed in-house remote sensing techniques that were originally developed for improving our engineering design and audit services. These techniques increase onsite data collection and provide a real picture (literally!) of how a tailings facility is operating on a daily basis. The three services currently provided are: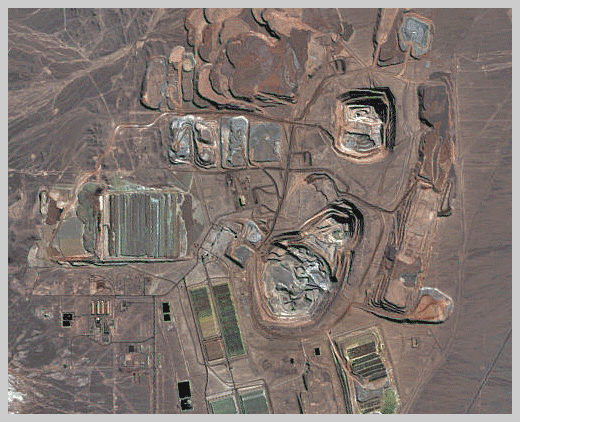 Time-lapse Photography – In-house camera controller designed and manufactured to take pictures of spigot and beach performance as well as general wall construction and decant pond size variations.
Satellite Imagery – Custom in-house code developed to render aerial imagery to real geometric coordinates and provide precise overlapping with historic imagery. Software developed to map wet and dry area size and drying behaviour.
Remote Piloted Platforms – Tailpro did develop two in-house Unmanned Aerial Vehicals (UAV) or drones, but now out-sources this service due to a few disappearances. However, we have developed a similar aerial photography technique using our custom built aerostat. Similar to the Satellite Imagery services, this data is primarily used to improve deposition planning.
Time-lapse photography is commonly used to map movements of slow moving and developing processes, such as construction of buildings and movement of stars. Applying the process to a tailings facility can help to see how deposition points meander with time, how a beach increases in height and how the tailings dry and desiccate.
Tailpro is currently on its third developed version which is a solar powered camera and control system. The electronics and circuit board are now professionally printed and assembled to provide stable power and camera automation whilst minimising power consumption and camera lens wear. The current control system wakes the camera up at 08:00 and take photos every 15 minutes during the day then goes to sleep at 18:00. A solar panel and small deep cycle battery provide continuous power. These systems are housed in a dust and water protective case ideal for mounting within a tailings storage facility.
Satellite Imagery
Satellite imagery used to be expensive, but during the last decade several new satellites have been launched to provide high resolution imagery, some for zero cost. Tailpro uses this information to improve tailings deposition planning and has written in-house proprietary software to provide a two-step interpretation process:
Generate precise overlap of satellite images to generate videos and imagery of mine and tailings dam development. Output files can also be georeferenced.
Algorithms to measure wet, humid and dry beach conditions in each image and estimations of active beach and degree of moisture content.
Tailpro sources satellite imagery for particular mining operations and their tailings facilities. Revisit times are typically 8 – 21 days depending on the particular satellite with resolutions of 30m – 0.3m achievable. Satellites can even be "tasked" to take periodic imagery during programmed passes and prices are around US$10 – 60km2. Normally there is a minimum area required which varies depending on the satellite service provider and is normally around 50km2, perfect for most mining operations.
In development, but not yet released, are a few further improvments to calculate humid beach areas with quick revisit times.
Fixed wing and multi-rotor (UAV)
Tailpro developed both fixed wing and multi-rotor drones for tailings facilities over a period of two years. In summary, after many crashes, poor data and frustration, we now leave this to the experts. We contract services to fly and provide imagery and topography data which we use in our analyses and design services.
Aerial Photography-Photogrammetry (Aerostat)
Tailpro developed in early 2016 a method to obtain aerial imagery up to an elevation of 100 m using a dirigible or aerostat. The aerostat is permanently tethered to the earth's surface or a vehicle and moved around a tailings facility to take photos at different angles. A computer controlled gimbal takes images in different directions as selected by the user on the ground via a tablet display. The purpose of the craft was to have an alternative to a UAV for the following reasons:
Tethered aerostats are not as heavily regulated as UAVs
Little to no experience is required to operate (TSF operators can use them)
Low Cost
Tailpro uses its aerostat to obtain aerial imagery of beaches for modelling purposes and topography measurements (photogrammetry). A corridor of approximately 200 m wide can be obtained with the camera in a vertical down position.